If there was even an iconic, Napa Valley Cabernet producer, Dunn Vineyards would certainly be on everyone's short list! At Dunn Vineyards, the classic, rich, muscular Cabernet Sauvignons that built the reputation of Napa Valley in its "golden age" in the 60's and 70's are still the norm (and never changed!). The history of the winery dates back to 1978 when Randy and Lori Dunn purchased a 14-acre parcel in Angwin planted to 5 acres of Cabernet vines. At the time, Randy was working full-time as a winemaker in Rutherford. In the evenings and on weekends, Randy, Lori, and a young Mike Dunn tended the vines. Later that same year, Randy agreed to both farm and buy the fruit from Harry Frank's adjoining property along with an additional 3 tons from the Beatty Ranch. And from that, the inaugural vintage of Dunn Vineyards Cabernet was launched in 1979!
In 1981, the winery was officially bonded. Later, in 1984, led by Bill Smith of La Jota Vineyards, Randy and a few other winemakers and grape growers in the same area, they proposed and defined the distinctive Howell Mountain AVA which was approved as an official sub-AVA of the Napa Valley. The AVA's boundary starts at an elevation of 1400' so even when it is cool and foggy on the valley floor, it is sunny and breezy up on the mountain. The wines of Dunn Vineyards epitomize Howell Mountain Cabernet: deep concentration, bold and massive, yet also rich and elegant.
By the end of the '80's Dunn Vineyards had become a successful operation. Randy was consulting for other wineries and selling his entire production of Dunn Vineyards, which allowed him to dig caves into the mountainside and expand production and barrel storage. In 1999, Randy's son, Mike, came back to help out part-time. It took about three years, but Mike finally realized that being part of the family business was his calling. After graduating from Cal Poly with a degree in winemaking and viticulture, Randy's daughter Kristiana also came onboard. By 2005, both kids were working full-time at the winery. Dunn Vineyards had always been a family business, but this brought things to a whole new level.
Today, the Dunn family farms 42 acres of Cabernet Sauvignon on Howell Mountain. Since 1979, they have done their best to care for these vines and produce a wine that tastes like Cabernet Sauvignon from Howell Mountain. They continue to be hands-on in the vineyard, on the crush pad, and in the cellar.
The winemaking at Dunn Vineyards is what one would expect, traditional and simplistic. There are two Cabernet Sauvignons produced, one from the Howell Mountain vineyards (red wax capsule) and a Napa Valley bottling that blends fruit from Howell Mountain and Coombsville. Both wines are 100% Cabernet Sauvignon aged for 32 months in French oak. Although a good dose of new oak is used, they have evolved into using lower-impact wood that is more about creating a clean vehicle for aging the wine rather than adding big oaky flavors.
The Dunn wines have an amazing track record for aging. In general, the Napa bottling can drink well on release, but will really start strutting its stuff after 3-4 years, and age gracefully for 15-20 years easily in most vintages. The Howell Mountain bottling, conversely, is often more tightly wound in its youth. While drinkable with the right foods, it loves 5-7 years to start hitting its stride, and in the best vintages should be able to age 30-40+ years. In fact, most of the early Howell Mountain Cab vintages are still going strong, and some of these wines are considered some of the greatest Cabs ever produced in Napa Valley! The stuff of legends…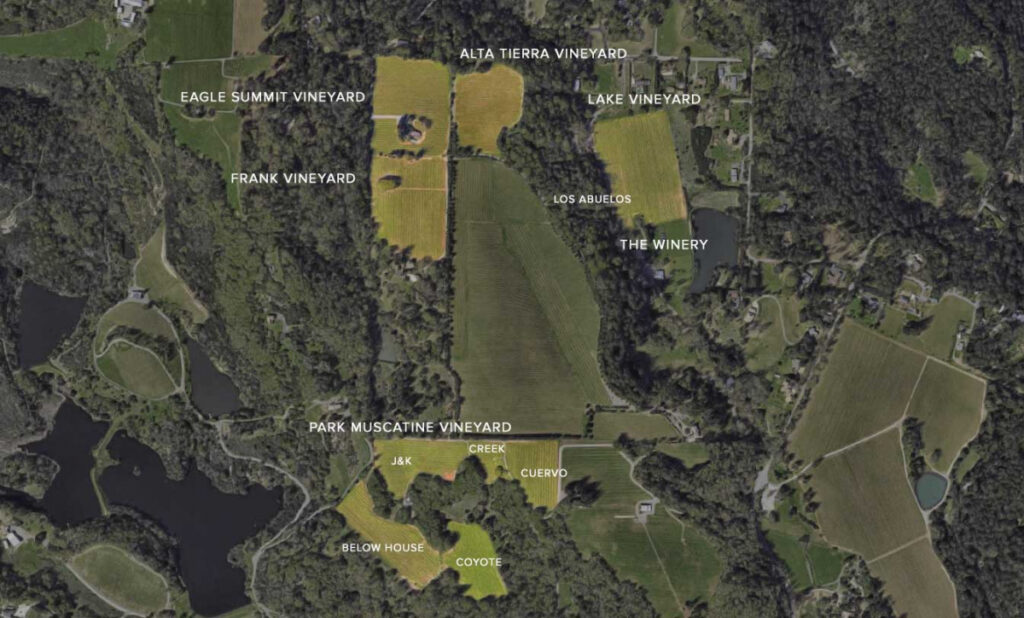 The Howell Mountain Vineyards
Alta Tierra Vineyard (Formerly the "Trailer Vineyard") - This was the original vineyard purchased in 1978 by Randy and Lori. After the 2013 vintage, they tore out the old vineyard and began the replant. In 2016 they grafted Cabernet Sauvignon onto the rootstock and renamed the vineyard "Alta Tierra".
Frank Vineyard - In 1979, Henry Frank entrusted Randy with managing this vineyard and they have been taking care of it ever since. Though Dunn does not own this vineyard, it feels very much like part of their land. Originally planted in 1965, Randy replanted the first block in 1989 and the second in 1993. This was followed by another replant of the first block again in 2018.
Eagle Summit Vineyard – Dunn Vineyards purchased this property in the Spring of 2018. It was planted to Cabernet Sauvignon in 2000 on two different rootstock and clonal selections. Situated at an elevation of 2100 feet it rests right in between the Alta Tierra and Frank vineyards.
Lake Vineyard - This vineyard is located directly adjacent to the winery and Randy and Lori's home. For the first 20 years, they grew hay here to feed the horses. The 8 acres primarily consists of Cabernet Sauvignon planted in three blocks (2001, 2002, and 2003).
Park Muscatine Vineyard – Dunn purchased this vineyard in 1991. It is comprised of 5 distinct blocks. We immediately replanted "Cuervo", followed by "JK" (1993) and "Below House" (1998). "Coyote" is the former home of the "Old Petite" block, but was replanted Cabernet in 2016. Production from the little "Creek" block has starting to slow and will be replanted soon.